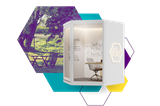 A home office in your employee's garden
An app-controlled, fully equipped and ergonomic garden office for your employee to work from home comfortably.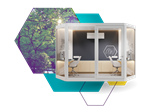 Workspaces for one or more people
Give your team members the opportunity to work together at any location you prefer.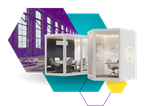 Create workhubs with our pods
Install meeting rooms or separate offices inside your building or elsewhere within a few hours.
Ergonomic pods we place at any location you want
Boosting the wellbeing
 and rebalancing the work-life of your team
A perfect solution for
 

hybrid working
Fully equipped
and app-controlled
Work from anywhere
With flexible workunits for one or more people we aim to give employees the possibility to work from any location they want. These workspaces can be used in people's homes, in public places (both indoors and outdoors) and to reconvert existing buildings into smart workplaces.
It is a solution for employers to carefree implement hybrid working.
Location and time independent working is a distinctive condition in the war on talent.
~ Christophe Deroose, CEO Acerta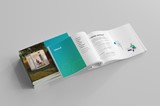 What experts say
Hybrid working is the talk of the town. We consulted 8 experts to gain insights in leadership, HR, wellbeing, culture, technology and legislation. Download our whitepaper to learn more.
Get in touch to learn more
Discover all about how it works or ask for an offer for one or more pods.